Retexture, Restore, Rehydrate & Renew
Our custom facials are specialized treatments focused on your skins needs and your desired results. All 60min treatments include a thorough skin analysis, a relaxing face, neck and shoulder massage and expert extractions. Complimentary recommendations of professional products for continued home care are made to keep your skin at its best!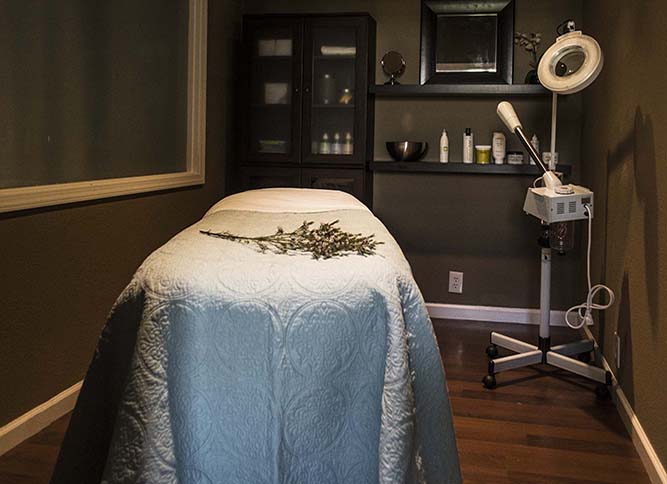 The Monterey Skin Renewal Facial
45 min - $75.00/60 min - $100.00
Dry, Sensitive, Oily, Acne
Experience the rich plant-based beauty of the Monterey Bay area with our signature specialty facial. A customizable facial treatment specific to your skin type offers effective deep cleansing, decongesting, resurfacing, balancing & ultra-rehydrating applications for the most common skin conditions such as dry, sensitive, oily, acne & congested skin types.
The Organic Rose Anti-Aging Facial
60 minutes
Sun Damage, Mature, Hyperpigmentation
Lavish your skin with this exotic Rose Trio of Organic Evening Primrose, Organic Rosehip Seed Oil and Pure Rosewater  to deeply rehydrate and soothe skin leaving you with visible anti-aging results which include a renewed softer skin texture, fine-line elimination, plump rehydrated skin.
The Oceana Clarifying Facial:
60 minutes
Acne, Blackheads, Congestion
Using a Sea clay & peppermint deep pore exfoliator & cleanse. This miraculous exfoliating ocean mud acts as both a deep pore cleanser & skin exfoliator while deeply hydrating & mineralizing skin cells for a younger, clearer & more supple appearance. Excellent for all skin types, especially severe acne & skin dehydration.
The Botanical Brightening Facial
60 Minutes
Aging, Sun Damage, Hyperpigmentation, Dull Skin
Rich fruit botanicals of papaya & pumpkin combined with vegan lactic acid and live enzymes deliver immediate exfoliation & skin retexturing, unveiling a refreshed skin layer ready for our advanced brightening infusion booster of Vitamin A rich Rosehip Seed containing high levels of natural Vitamin C & Essential Fatty Acids to replenish skin while brightening skin tone.
The Great Escape Facial
90 min
Anyone seeking the royal treatment
Experience the benefits of advanced plant based skin, inspired by the sea. We will optimally treat & nourish your skin with everything it needs to feel refreshed, renewed, decongested & completely clean, leaving you with the healthiest of skin glows! While you receive the ultra-pampering of a relaxing aromatherapy scalp massage, lifting eye booster & heated foot wrap.